How to Master the Four Tones in Mandarin
Speaking requires muscle memory
Speaking is not understanding. Pronunciation requires muscle involvement. We need to able to put the understanding into practice. Being able to understand the Four Tones in Mandarin is like being able to read music sheets. But being able to speak Chinese with Tones correctly is like being able to play the instrument.
Speak with the correct Tones at the very beginning
One thing extremely important is that whenever you learn a new word, make sure you can pronounce the Tones correctly. Don't wait until you've already learned so many words and then go back and correct the Tones one by one. It will take so much more effort that way.
Tones Themselves Are Not Difficult
Tones in Mandarin are not difficult to pronounce. It is surprisingly easy to pronounce the Tones individually. You can master the Four Tones in less than a minute. Then why are Tones in Mandarin so difficult? Here are the reasons:
1. how to remember the tone for each Chinese character
2. how to pronounce the Tones in different combinations
3. switching among the Tones quickly during conversations
How to Pronounce the Four Tones in Mandarin
There are four Tones in Mandarin Chinese Tone system, along with a special Neutral Tone. Sometimes when speaking, Tones get modified or changed. We will discuss Tone changes later in this course. Please practice the Four Tones along with the video.
The First Tone: It starts high and maintains high the whole process.
The Second Tone: It starts medium high and goes up.
The Third Tone: It starts medium high, dips down and then up again.
The Fourth Tone: It starts high and then immediately goes down.
The Neutral Tone: It is not a real tone, it is a way of pronunciation that is light, vague and short.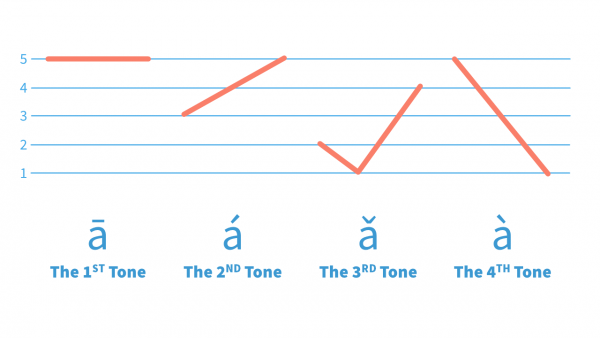 Why Is It Important to Speak Chinese with Tones Correctly
Tones in Chinese can affect the meaning of a character or a word, this means that with different Tones, the same exact syllable can mean two different things. That's why getting the Tones correctly is important to communicate with people.