How to Master Mandarin Chinese Tones
Our very first step is to be able to pronounce each Tone correctly individually. And then we'll try to put them together in Tone Pairs, Tone Groups and sentences for more intensive Chinese Tone practice.
Individual Tone ➜ Tone Pairs ➜ Tone Groups ➜ Sentences
Also, as we've mentioned in our Perfect Pronunciation: Pinyin Drills Course, when you first start to learn a language, don't be afraid to sound "exaggerated" or "fake" while doing pronunciation practice. Because only when you can pronounce them the exact and 100% correct way, then can you start to speak with the Tone modified or faster, more relaxed and more "natural".
Exact, Standard, or "Exaggerated" Pronunciation ➜ Modified, Faster, or "Natural" Pronunciation
How to Write Chinese Tone Marks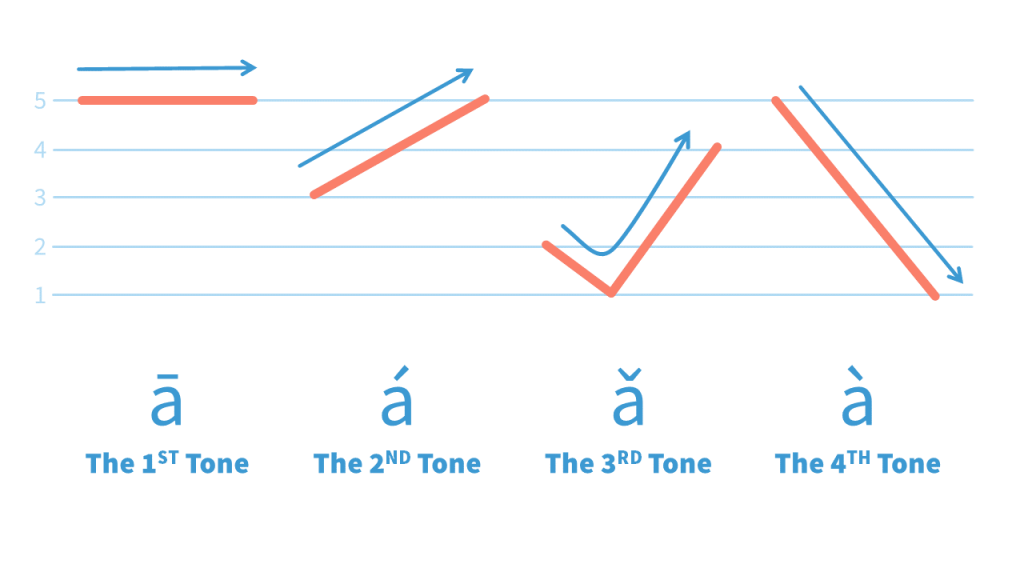 In the video of this Chinese Tones lesson, you will see the way to write Chinese Tone marks. The way you write them represent the same techniques that you pronounce them. The First Tone: starts high and maintain the same high pitch the whole process. The Second Tone: starts in the middle, semi high, and goes up. The Third Tone: starts in the middle, drops down, and goes back up again. The Fourth Tone: starts high, and then quickly goes down. And we put the mark on the main vowel of the Final - whichever comes first in this list: a o e i u ü. And if the Final is iu or ui, the mark falls on the last letter.
The 5-Line Chinese Tone Graph
The 5-line Chinese Tone Graph is the proven best way for Chinese Tone practice. This is not how to write Chinese Tone marks. Instead, we use the 5 lines to
represent the pitch of our voice, 5 is the highest and 1 is the lowest. The graph can help visualize each tone so it is easier for us to make adjustments accordingly.
But please pay attention that the "5" or "1" here is not a fixed pitch, because everyone has different voice range. Some people higher and some people lower. While practicing along with the video of each Chinese Tones lesson, please pay attention to the 5-Line Chinese Tone Graph. Watch how the pitch is like for each Tone. It works amazingly for pronunciation.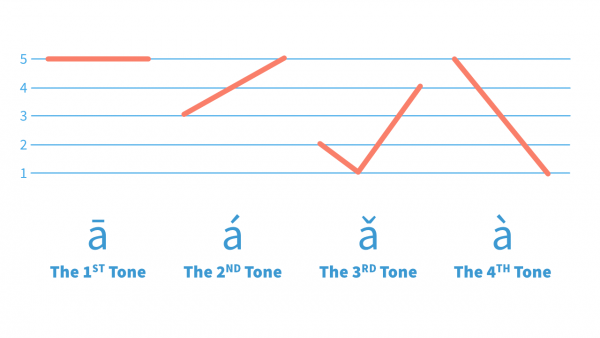 Lengths of Mandarin Chinese Tones
With the same syllable is pronounced in different Tones, some Tones lasts longer than the others. Generally, the Third Tone lasts the longest, the Fourth Tone is the shortest. The First Tone and the Second Tone are not too long and not to short.