请假条 QǏNGJIÀTIÁO ▸WRITTEN REQUEST FOR LEAVE OF ABSENCE 
VOCABULARY
HSK




2.0

HSK




3.0

CHINESE
PINYIN
P.O.S.
ENGLISH
6
1

请假




qǐngjià
v.
to ask for a leave of absence; to ask for time off
-
-

请假条




qǐngjiàtiáo
n.
written request for leave of absence
6
3
批准


pīzhǔn
v.
to ratify; to approve; to authorize
WRITTEN REQUEST FOR LEAVE OF ABSENCE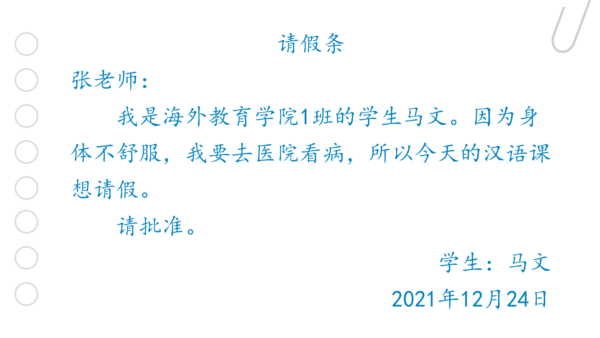 请假条
张老师:
我是海外教育学院1班的学生马文。因为身体不舒服,我要去医院看病,所以今天的汉语课想请假。
请批准。
学生:马文
2021年12月24日
Qǐngjiàtiáo
Zhāng Lǎoshī:
Wǒ shì Hǎiwài Jiàoyù Xuéyuàn Yī Bān de xuéshēng Mǎwén. Yīnwèi shēntǐ bù shūfu, wǒ yào qù yīyuàn kànbìng, suǒyǐ jīntiān de Hànyǔ kè xiǎng qǐngjià.
Qǐng pǐzhǔn.
Xuésheng: Mǎ Wén
Èr líng 'èr yī nián shí 'èr yuè 'èr shí sì rì
Written Request For Leave
Teacher Zhang:
I am Ma Wen (from) Class 1 (of) School (of) Overseas Education. Because (my) body (is) not comfortable, I need-to go-to (the) hospital to (have my)-sickess-looked-at, so today's Chinese class (-) (I) want to ask-for-a-leave.
Please permit.
Student: Ma Wen
2021 Dec 24
WRITING FORMAT